News and updates :
This  year I am focusing my practice on the creation of some stop motion animation works. Thanks to generous Research and Creation grant from the Canada Council for the Arts, I will be spending most of the year in my studio creating a series of stop motion animation works using paper cutouts. I will be getting some technical assistance and training from film maker Brian Lye to navigate the initial shock of moving into camera and SMA software.
I am very excited to be heading in this direction. The work is moving in its own direction loosely around explorations of animal consciousness, trauma and extinction. The project has a working title of "spectral companions."

We acknowledge the support of the Canada Council for the Arts.
Jordan Schnitzer Printmaking Residency at Sitka Center for the Art and Ecology, Otis, Oregon.
Fall of 2021
Last fall I was fortunate in being able to get down to Oregon to attend my long awaited for Jordan Schnitzer Printmaking Residency at the Sitka Centre for Art and Ecology. What a wonderful experience to work one on one with Julia D'Amario Sitka's Master Printmaker. She generously shared her skill and passion for this ancient art form. We worked hard to complete four copperplate etchings from which Julia ran editions of 10 on each plate! I gave a short talk online for Sitka on what it was like to be in the print studio and on what sort of work evolved over the course of the residency. You can find this talk as part of their residency program posted on their website if you are interested.  I began to see what processes would work with my imagery and aesthetic. And will look for opportunities to further explore this medium. The Sitka campus is located 10 minutes from the confluence of Salmon River Estuary and the Pacific Ocean. It is a place of tremendous life force. The campus is immersed in old growth Sitka forest – stunning! I am so grateful that it all came together and I was able to immerse myself in this experience.
Up coming Residency: Art Shed
in Sointula, BC spring 2022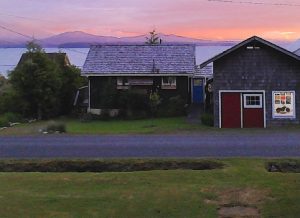 Sointula Art Shed is on Malcolm Island to the inside of Vancouver island off of Port McNeil.  It is located on KwaKwaka 'wakw territory.  Sointula is Finish and means "place of harmony". It was a established as a fishing village by a group of Finish utopian socialist settlers in 1901. I will be spending a month this spring at Sointula working on stop motion animation pieces with paper cutouts and drawn imagery. I am looking forward to spending more time on the ocean and to getting to know the people of this small community. Great thanks to the founders and directors of the ART SHED – Kerri Reid and Tyler Brett who will be my hosts. The residency is part of my stop motion animation project, "Spectral Companions," and is supported by the Canada Council for the Arts.

We acknowledge the support of the Canada Council for the Arts.
Pre-pandemic exhibition and video interview of  Once We Were Whole
Langham Cultural Centre in Kaslo, BC – This exhibition was closed early due to Covid-19 Pandemic. The gallery moved the exhibition – Once We Were Whole to a virtual format creating two videos. A long version with me talking about the creation of the work and my practice in general and a shorter version that features Eimear Laffan reading her poem written in response to the work, You cannot perish if you have not been touched as the camera pans around the gallery. Below is the longer version, both videos can be found on the Langham Culture Centre's website.
Exhibition opened February 28th, 2020 and closed on March 14th.
Curator: Seathra Bell
Video work by Louis Bockner.
Images and more information about this new work are under Once We Were Whole under WORK.
Glimpse of Pandemic studio life –