News and updates : Pandemic life/ Studio life

This past 15 months, my usual flow of working life;  teaching gigs, Oxygen exhibition and residency coordinator work and anticipated residencies were thrown into the air resulting in many cancellations and some postponements. Studio life was the one consistent factor during this period. Responding to circumstances of travel restrictions and limited social interaction, my gratitude for my living situation and location deepened. I found certainty only in the pandemic moment.
In the studio, rather than finding my focus on one project, I roamed.  Moving between mediums and seemingly unrelated bursts of work;  paper cut outs, paintings, ink works and drawings. It has been the act of drawing that centered my practice and informed all the other work.
The gallery of images below will give you an idea of what this wandering manifested during the pandemic.
Five streams of work;
A series of paintings in which I use a body of figurative based sculptural assemblages that I made a couple years ago as "still life" material. Interesting to revisit these images in another spatial format. I found that I had a certain instant intimacy with them.
Secondly, I have been drawing at the beginning of every studio session. I don't premeditate on what I will draw rather select an image from my studio files of images gathered over the years. Some recurring themes come forth; the cow, the rabbit, the human face and so on. Simply materials of graphite and chalk on newsprint or tonal paper helps to shift my focus from other tasks and into the studio life.
Third, in preparation for my upcoming printmaking residency I have begun to play with rollers and plexiglass plates to layer surfaces and imagery. I have a lot more playing in mind but somehow I got side tracked into a series of drawings on rolled ink based on the stone relief panels from Angkor Wat in Cambodia. Some of these images have spilled into my paintings as well.
Fourth, I have continued to play with ink stains on Yupo paper and automatic processes of working these stains into figurative based drawings.
Lastly, I continued with my large paper cutouts some of which were exhibited at the Langham Gallery in Kaslo, BC just as the pandemic shutdowns began in March 2020. I look forward to moving back into some large paper cutout work in the fall.
Although, at times feeling lost, reflecting back on the work, it has been a generative period and some of the tangents will expand and feed future work. I can't say at this time of any of the work reflects what is going on in the larger world but I trust it fits into my opus in a way that is integral.
Up coming residencies 2022
Jordan Schnitzer Printmaking Residency  at Sitka Centre for the Arts at Cascade Head, OR
Residency: Art Shed
in Sointula, BC spring 2021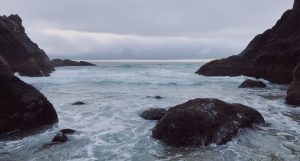 Sitka Center for the Arts and Ecology, Cascade Head, OR
I am looking ahead this coming year to both of these ocean based residencies and an opportunity to explore copper plate etching with the assistance of a master printmaker and to create in the fluid and dynamic ocean land interface!
Sointula Art Shed is on Malcolm Island off Vancovuer island. It is located on KwaKwaka 'wakw territory.  Sointula is Finish and means "place of harmony". It was a established as a fishing village by a group of Finish utopian socialist settlers in 1901.
The Sitka Center for Art and Ecology is situated on the Oregon Coast just north of Lincoln. The campus is build among the coastal forest. The Center was founded in 1970 to foster an understanding and relationship between art, ecology and humanity. I was awarded the Jordan Schnitzer printmaking residency. I will be there for three weeks to work with with master printmaker, Julia D'Amario on a series of copper etchings.
Pre-pandemic exhibition and video interview of  Once We Were Whole
Langham Cultural Centre in Kaslo, BC – This exhibition was closed early due to Global Pandemic. The gallery moved the exhibition – Once We Were Whole to a virtual format creating two videos. A long version with me talking about this body of work and my practice in general.
Exhibition opens February 28th, 2020 and run until April 03, 2020.
Curator: Seathra Bell Video work by Louis Bockner.
There is a short video as well that features Eimear Laffan reading her poem You cannot perish if you have not been touched as the camera looks over the work of Once We Were Whole.
Both videos are on the Langham Culture Centre's website. Images and more information about this new work are under Once We Were Whole under WORK.
Glimpse of Pandemic studio life –