Hoping this finds you well in all ways possible during this unique time in our Global health and culture.
News and updates :  exhibitions and residencies:
Up coming residencies 2021
Jordan Schnitzer Printmaking Residency  at Sitka Centre for the Arts at Cascade Head, OR  winter 2021
Residency: Art Shed
in Sointula, BC spring 2021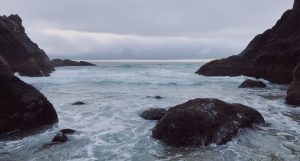 Sitka Center for the Arts and Ecology, Cascade Head, OR
Both residencies are located on the Pacific Ocean, a dynamic environment to create new work.
Sointula Art Shed is on Malcolm Island off Vancovuer island. It is located on KwaKwaka 'wakw territory.  Sointula is Finish and means "place of harmony". It was a established as a fishing village by a group of Finish utopian socialist settlers in 1901.
I will be immersed in studio work, ocean walks and island wandering for a period of 4 weeks. I will be working on a site specific installation based on the history of the studio building which was once a fishing hut afloat throughout the Broughton Archipelago and Queen Charlotte strait. Three years ago, I kayaked around parts of the Archipelago and was struck by its sublime beauty and richness of its ocean based ecosystem. I am looking forward to this opportunity to spend time reflecting on the ocean culture and its aquatic inhabitants.
The Sitka Center for Art and Ecology is situated on the Oregon Coast just north of Lincoln. The campus is build among the coastal forest. The Center was founded in 1970 to foster an understanding and relationship between art, ecology and humanity.
I was awarded the Jordan Schnitzer printmaking residency. I will be there for three weeks to work with with master printmaker, Julia D'Amario on a series of copper etchings. I am looking towards exploring a processs of layering using various printmaking processes – that of drawings and ambiguous shapes created at the beginning of the residency.
Recent exhibitions:
Once We Were Whole
Langham Cultural Centre in Kaslo, BC – This exhibition was closed early due to Global Pandemic. The gallery moved the exhibition – Once We Were Whole to a virtual format creating two videos. A long version with me talking about this body of work and my practice in general.
Exhibition opens February 28th, 2020 and run until April 03, 2020.
Curator: Seathra Bell Video work by Louis Bockner.
There is a short video as well that features Eimear Laffan reading her poem You cannot perish if you have not been touched as the camera looks over the work of Once We Were Whole.
Both videos are on the Langham Culture Centre's website. Images and more information about this new work are under Once We Were Whole under WORK.
Between
Opened November 15th at Tilted Brick
Artist Run Centre in Creston, BC
Curator statement by Lisa Benshop
Directors : Marnie Temple and Jim Wallis
Between represents a selection of Deborah Thompson's recent work and is part of a larger body of paintings, sculptures and drawings. This exhibition at the Tilted Brick highlights new works on paper. Throughout the series, Thompson employs facial expressions and sometimes body gestures to explore a range of emotions around anxiety. The work evolves out of a highly personal dialogue following a line of existential questioning prompted by this era of outward instability and on going injustice. Thompson says that  her work is not didactic in a political way rather hopes it is universal in its social breath of understanding. Provocative and sometimes unsettling, the daily activity of creating work requires the artist to assume an emotional kinship with the work. In particular, the artist feels that the works on paper with their use of black and white media such as ink, charcoal, graphite and cut paper drop the seductiveness of colour exposing a world of anxiety unplugged. 
Last fall I  launched exhibition of new work at the Kootenay Gallery of Art under the title, Pan-dulum: a Call to Unreason.
Curator: Maggie Shirley
A project that I have been working on for a few years which explores the psychological nature of anxiety and its manifestation as a pendulum of emotion/mind states between panic and desire. The work shown in the gallery included paintings, drawings and sculptures.
Pan-dulum: A Call to Unreason was on exhibit at Gallery 2, in Grand Forks, BC  in February – April, 2019 .
Curator, Tim Van Wijk
The work was sponsored by the Columbia Kootenay Cultural Alliance through a major project grant. Check out more images of the work in the Pandulum section of this site.
Check out this review of Pan-dulum in Galleries West Magazine. Written by Susan Andrews Grace.
I had the joy of speaking with Sherly Mackay down at CBC this winter. Our conversation is on the March 23rd edition of her North by NorthWest radio show. We spoke about the process of creating Pan-dulum and where the work is headed.
https://www.cbc.ca/listen/live-radio/1-43-north-by-northwest
Below are some images from the exhibition Pandulum and an "Artists in Conversation" with Curator: Tim Van Wijk at Gallery 2 in Grand Forks. For more images of this body of work see Pandulum under WORK  http://: http://debthompson.ca/work/. The installation photographs were taken by Randi Fjeldseth. The gallery photographs were taken by Jeremy Addington.
I have also included some images from Between and studio shots of work in progress for the exhibition at the Langham Cultural Centre in February 2020.
Pandulum was generously supported by a major project grant from the Columbia Kootenay Cultural Alliance