News and updates :
Looking ahead to 2024-
Residency:
For the month of April, I will be participating in the BoxoProjects Residency Program down in Joshua Tree, California at the Contemporary Art for a New Frontier. During this residency period I will be focusing on the project Moth Sensorium. This new project explores the de-centering of the dominant visual sense and welcomes information garnered from the secondary senses, inparticular,  that of smell and sound.  As part of this residency I will be taking courses from the Institute of Art and Olfactory based in L.A.
Exhibition of new work:
I will have a solo show at Grand Forks Art Gallery ( Aka Gallery 2) in Grand Forks, BC. The show is curated by Tim VanWijk, director and curator of the gallery. The show opens on May 10th, 2024.  An artist talk and hinged puppet workshop to follow (dates yet to be set for this). The show will run for three months.
I will be showing two stop motion videos and a selection of drawing and cut paper works. In the work, I speculate on the agency of material and spiritual transformation. I am interested in making work from a felt sense which often reaches for animal imagery as a visual metaphor for this experience.
This exhibition will be the first showing of my stop motion animation work – a  new direction in my practice.
In my studio – I am working on completing the project, Spectral Companions.

Stop Motion Animation
I am honoured to be the recipient of  a Research and Creation grant from the Canada Council for the Arts for the project "Spectral Companions." Subsistence support  for one year has allowed me to focus my practice in a new direction, to purchase camera and software equipment, and to hire animation artist Brian Lye, as a mentor. The scope of the project was made possible by the generous support from the Canada Council for the Arts in making this project happen.
I am now in post-production – with a soundscape created by composer, Graham Tracey and I am working on digetic sounds to accompany the score.
The project was supported by the Canada Council for the Arts

We acknowledge the support of the Canada Council for the Arts.
Jordan Schnitzer Printmaking Residency
Sitka Center for the Art and Ecology, OR.
Fall of 2021
I was in Oregon to attend my long awaited for Jordan Schnitzer Printmaking Residency at the Sitka Centre for Art and Ecology. What a wonderful experience to work one on one with Julia D'Amario Sitka's Master Printmaker. She generously shared her skill and passion for this unique art form. We worked together to complete four copperplate etchings from which Julia ran editions of 10 on each plate! I began to see what processes would work with my drawings and aesthetic. The Sitka campus is located a 10 minute walk from the confluence of Salmon River Estuary and the Pacific Ocean – a place of tremendous life force!  I am so grateful that it all came together during covid! And that I was able to immerse myself in this experience.
One of each of four prints I created with Julia, were recently purchased by the Portland Art Museum for their print collection.
Up coming Residency: Art Shed
in Sointula, BC spring 2022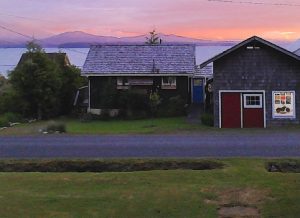 Sointula Art Shed is on Malcolm Island to the inside of Vancouver island off of Port McNeil.  It is located on KwaKwaka 'wakw territory.  Sointula is Finish for "place of harmony". It was a established as a fishing village and farming community by a group of Finish immigrants who had a vision of utopia. They rowed up from Nainamo and began occupying Malcolm Island in 1901.
Great thanks to the founders and directors of the ART SHED – Kerri Reid and Tyler Brett who manage and make possible the existence of this incredible residency. My time at the residency was part of my stop motion animation project, "Spectral Companions," and was supported by the Canada Council for the Arts. This support covered the entire cost of the month long residency including my travel, material and living expenses.

We acknowledge the support of the Canada Council for the Arts.