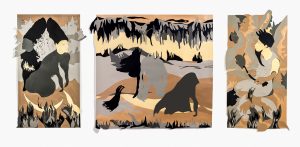 Once We Were Whole
Gallery:
You can only be touched if you have not perished
(written in response to Once We Were Whole by Deborah Thompson)
How well the cave initiates.
Even allegory has a genealogy.
Answer though you were not called.
Each breach dictates a subterfuge.
Humble then your hands into the dirt.
There is more than one way to pray.
Punctuate clay with raw desire.
Its hard press will find you in time.
Unearth lunacy from the cavern floor.
What can be held can be altered.
String the nadis with fairylight.
The body has a history of absorption.
Borrow paper from a birch bark.
Remember how to start a fire.
Animal the wolf moon with a howl.
Every after carries a resound.
Eimear Laffan
Once We Were Whole
Artist talk and exhibition video funded by the British Columbia Arts Council. A film by Louis Bockner.
https://www.youtube.com/watch?v=VgKNv0KVask&fbclid=IwAR0OLbYYiaAjj2zKE3vzGe6EUE9MhJHHSFQ_lk93jgLDXFK8vQ_drgPWU0w
The exhibition Once We Were Whole is an example of a new direction in my practice – cut out and collage work. This new work departs from my use of hand cut paper stencils in Pan-dulum: a Call to Unreason.
This body of work has many influences and inspirations – foremost, it is inspired by my memory of  the pictographs of Altamira Cave in Spain and the Pictographs and Petroglyphs on the canyon walls of Southwestern Utah. The work is motivated by a growing experience of separation and divisiveness among humans,  and a desire for finding common ground of a common ancestry. A belief that we share this common ground – consciousness between all living beings and creatures.  In making the work, I imagine primal state of being whole, one beyond duality. In creating this series of work, I have also been musing on the writing of Luce Iriagary, French feminist philosopher as she decodes the Platonic Allegory of the Cave myth into a more inclusive paradigm. And of the writing of poet, Clayton Eshelman's wondering and wandering in the imagination of Upper Paleolithic culture in his book, Juniper Fuse.
I invited Nelson-based poet, Eimear Laffan to visit my studio, and to create a response, in words, to the work. Her incredible poem, You Can Only Be Touched If You Have Not Perished was included in the exhibition and exhibition monograph.
The exhibition included a short residency – five days- from which I began the piece "Slider". It shown in its early stages and completed later in my studio.
As the residency opened in late February 2020 – it soon closed due the Pandemic! The British Colombia Art Council  then forwarded funds in which the Langham Gallery allocated towards the creation of a two videos on the work. A link to the videos is above.